It's Time Once Again For....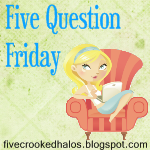 Five new questions, five new answers, all new fun!
1. Do you know what your REAL hair color is?
Mud puddle blonde. I fear that I could be on the cusp of a slow transition into white but I don't look that closely out of respect for my self esteem.
2.
Do you plan ahead for summer, or fly by the seat of your pants?
Both. We plan trips to see the in-laws but we sorta just go with the flow for camping and other smaller excursions. I aspire to actually plan out the entire season, here's hoping for next year!
3. What is your favorite meal to cook?
Take out? No I jest! I think my favorite is Lasagna or Shepherd's Pie. I love comfort food, and I think that's what I do best.
4. Do you get offended by not receiving thank yous?
Yes. I was brought up that you are to be gracious and respectful when the occasion calls for it. If someone is thoughtful enough to do something for me no matter how small I think it's only right to thank them. I still believe in hand written thank you cards for certain situations too, even though some might find that a bit Victorian.
5. How did you meet your best friend?
Which One? I have a handful of close friends all for different reasons.
I have my high school girlfriend that I met in grade 10 as we stood in front of our lockers and here we are 22 years later.
I have my co-worker girlfriend that I met when her and I ended up working together at a thankless customer service job.
I have my prenatal girlfriend that I met in prenatal class. We ended up birthing our children at the same hospital on the same day nine years ago.
I have my homegrown girlfriend. Her and I crossed paths many times over the years but recently moved out to the same rural area at the same time. It was then that our friendship really took root. She is also my blogger bestie, so if you watch close enough you can figure out who she is LOL!
I have my New Zealand girlfriend. Her and I are twins in opposite countries. We have never met face to face (unless you count video chat) but we are still very close.
I have many girlfriends that fulfill me in different ways (too many to list here) and the term best friend somehow seems an inadequate description. I think I have girlfriends that are all the best in their own way. I think people are multi-faceted and it's great to have others in your life who enhance different aspects of your character/personality. If you can find one or a few that enhance all of who you are then you are very blessed. My girlfriends are my soul food and I am so glad they share my life.
There you have it, now go link up and share your five responses because it's a lot of fun!
Have a funtabulous Friday!